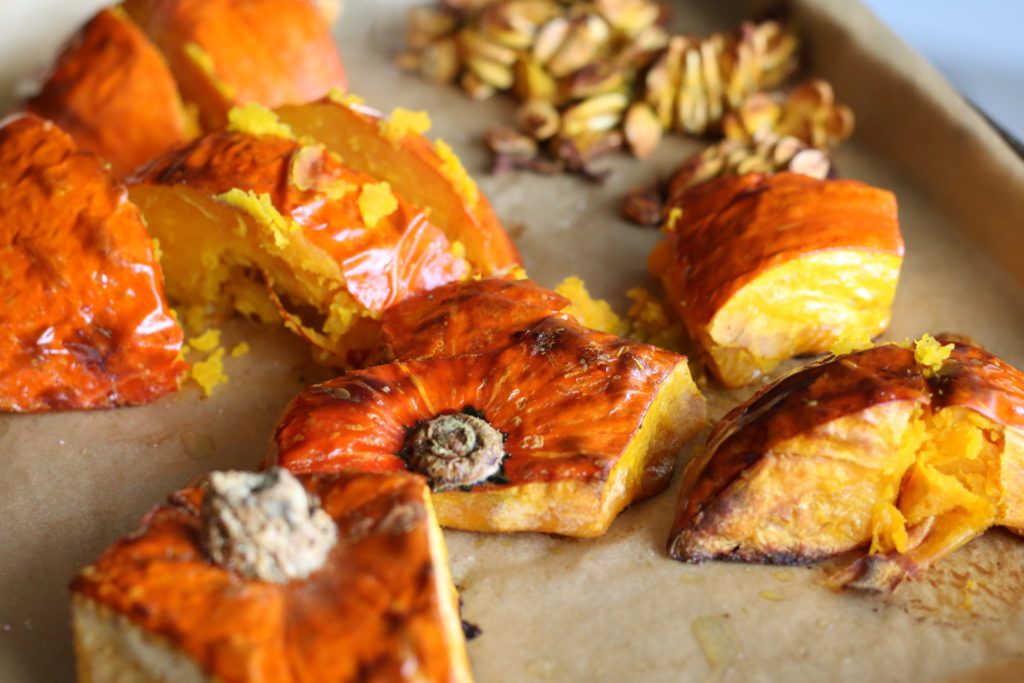 I love going to the farmers market every week and finding fun things to make in the kitchen. It gives me a chance to try seasonal food that I normally wouldn't think about eating. I also like supporting my local community. This week I encountered the kabocha squash. It comes in both an orange and green variety.
The texture of kabocha squash is kind of like butternut squash and pumpkin. It has a nutty sweet taste and smooth finish. The skin is edible once baked and also has lots of fiber.
This squash is filling and nutrient dense, packed with fiber, potassium, iron,  and lots of vitamins. Being rich in vitamin A it is also great for the skin, hair and eyes. Vitamin A is a necessary component to build collagen and improve elasticity to the skin.
Squash may looking like a daunting vegetable to cook, but it's surprisingly easy to make! You can boil, bake or puree it into a soup. Take a look below at a simple way to prepare it.
Baked Kabocha Squash
Ingredients:
kabocha squash
olive oil
salt and pepper to taste
Preheat oven to 400 degrees.
Line baking sheet with parchment paper.
Rinse kabocha squash and then pat dry.
Take a heavy knife ( like a cleaver) and cut the squash in half. Scoop out the seeds. Then cut squash into 3 inch slices (the main idea is make them about the same size.)
Drizzle and lightly coat kabocha squash with olive oil, salt and pepper.
Place sliced squash on baking sheet and bake for 35-40 mins. The squash is done when you can pierce it through with a fork. You can now eat it either warm of cooled.
I like eating the skin and don't feel like it effects the taste. If you rather not eat the skin after it is baked is when you should remove it as with the stem which is not edible.
Here are two suggestions for flavoring once it is cooled.
add pomegranate seeds, pumpkin seeds, olive oil, and balsamic vinegar.
add grated ginger, chopped scallion, sesame oil, honey and soy sauce.