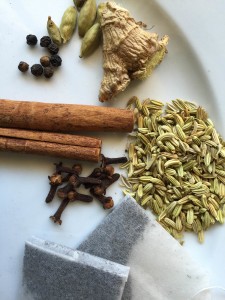 Start the New Year off with a cup of chai! Instead of buying a cup, just make it and get your home smelling amazing. The aromatic smells of cinnamon and cardamom really fill the room with warmth! The mixture of the different herbs in the tea help with digestion and warm up the body. It's a great way to start off a chilly day.
I use a recipe inspired by Food Network. I add honey instead of brown sugar and add the milk or cream to each individual cup. Honey is loaded with antioxidants and brings out the flavor of the tea. Chai tea is also great on its own without anything added.
Modified Recipe as follows:
7 cups of water
1 tablespoon fennel seed
6 green cardamom pods
12 whole cloves
1 cinnamon stick
1 (1/4-inch) piece ginger root, peeled and thinly sliced
6 black peppercorns
2 tablespoons Darjeeling tea or (2 black tea bags)
Honey to taste
Milk to taste
1. Take a medium sauce pan and add water, fennel seed, cardamom, cloves, cinnamon stick, ginger root, peppercorns, and water.
2, Boil for 5 minutes. Then turn off heat and let it sit for 10 minutes.
3. After seeping, add tea and bring to boil reduce and simmer for about 5 minutes.
4. Strain tea and discard the spices. Pour into individual cups adding honey and milk to taste.
*I serve the tea in a cup and then add milk and honey to my desired taste